Functions
Our organization is based on democracy.
Functions
Our organization is based on democracy.
The tasks of the South Savo Regional Council include regional development, land use planning and the promotion of local and regional interests in general. The Council creates conditions for wellbeing, economic development and a safe and attractive physical environment for its citizens. It receives its funding from the member municipalities.
The Regional Assembly
The Regional Assembly is the highest decision-making body of the Regional Council. It consist of 49 members. Members for the Assembly are chosen by municipal councils. The Regional Assembly meets twice a year.
Chairman of the Regional Assembly is Mr. Jarno Strengell (Social Democratic Party).
Regional Assembly 2021-2025
Jarno Strengell, Chairman (Social Democratic Party), Mikkeli
Hannu Auvinen, ​1st vice-chairman (Centre Party), Sulkava
Eero Aho, 2nd vice-chairman (National Coalition Party), Mikkeli
Representatives of political parties:
15 Centre Party representatives
11 Social Democratic Party representatives
9 National Coalition Party representatives
6 The Finns Party representatives
3 The Greens representatives
2 Christian Democrats representatives
2 Movement Now representatives
1 Left Alliance representative
The Regional Board of South Savo
The executive body of the Regional Council is called the Regional Board. The responsibility for the implementation of the decisions lies with the Regional Board and its 13 officials. The officials in the Regional Board are politicians elected by the member municipalities for a mandate of four years. They represent the political will of the region according to the local election results.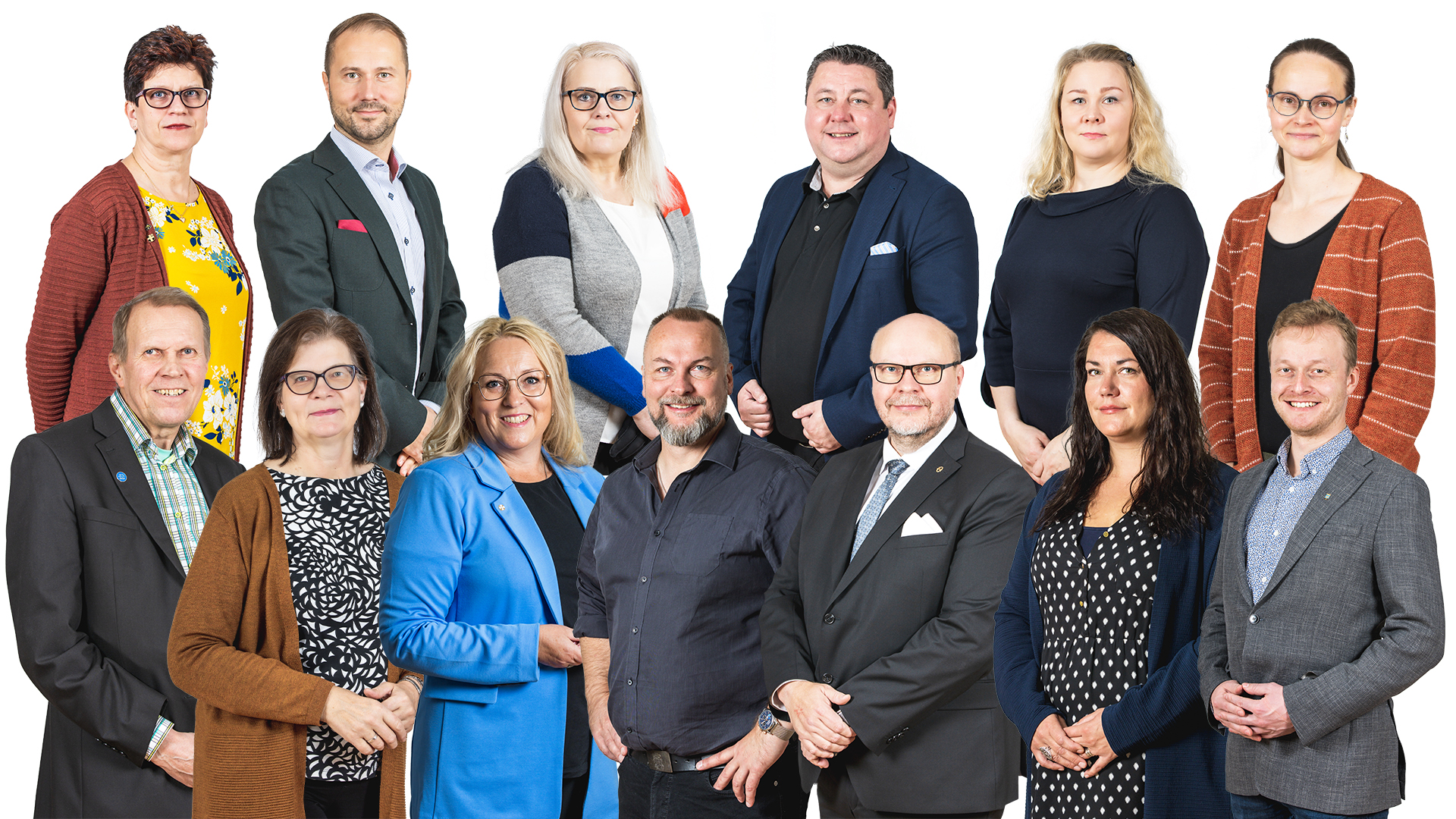 The Regional Board 2021-2025
Chairman Arto Sepponen (Centre), Pieksämäki
​1st vice-chairman Nina Rasola (National Coalition Party), Mikkeli
2nd vice-chairman Eija Stenberg (Social Democratic Party), Savonlinna
The mermbers and deputy members of the Regional Board:
Hakala Kerttu

Leikas-Tikkanen Tiia

Greens

Hokkanen Mikko

Huupponen Erkki

SDP

Hänninen Elisa

Tilaéus Tiina

Centre

Tissari Jenni

Rautiainen Sari

SDP

Kovanen Anna-Maria

Virtanen Outi

NCP

Kukkonen Juha

Kaiponen Kari

Finns
Party

Olkkonen Kirsi

Hämäläinen Laura

Centre

Sepponen Arto

Lamponen Markku

Centre

Stenberg Eija

Laitinen Marja

SDP

Järvinen Sami

Hartonen Tanja

Finns
Party

Suomalainen Tuukka

Husso Kaarle

Centre

Turunen Pekka

Selenius Jyrki

NCP

Rasola Nina

Häkkänen Markku

NCP
The five member Board of Controllers assess whether the objectives, priorities, activities, financial means and management set for the Regional Council are being met.
Regional Management Commitee
The Management Committee of EU-financed programmes 2021-2025 in South Savo comprises 28 members representing the Regional Council, the various national government authorities, education, organizations and social partners.
Chairman: Mr. Jonne Tynkkynen
Chairman of the secretariat: Ms. Pirjo Paananen
Secretary: Ms. Pirjo Paananen
Address
Regional Council of Etelä-Savo, Regional Management Committee
Mikonkatu 5
FIN-50100 Mikkeli, Finland
Tel. +358 15 321 130
E-mail: kirjaamo@esavo.fi